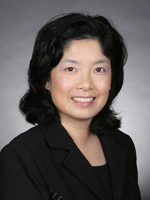 About Esther Wang
Esther C. Wang is an attorney who has been providing quality legal services since 1991.  Esther is the Area Director of the National Care Planning Council in the Inland Empire and one the only member of the American Academy of Estate Planning Attorneys in San Bernardino County, California.
Experience
Esther is one of 28 contributing authors of a 2-volume national reference legal treatise,
The Elder Law Portfolio Series
by Aspen Publishers.  She is the co-author of
Medi-Cal Planning Basics under the Current Regulations and the New Deficit Reduction Act and Top 7 Estate Planning Techniques
, both legal manuals are published by the National Business Institute, a continuing legal education provider.
For over 19 years, Esther has been dealing with medical-related legal issues faced by her clients.  Esther worked for prominent law firms in California and New York prior to starting her law practice in San Bernardino in 1995. She has handled cases involving various disabilities and injuries, including acute and chronic neurological deficits, cancers, autoimmune diseases, psychiatric illnesses, severe spinal and orthopedic injuries, lung diseases, infections, kidney failures, and heart diseases. She has represented her clients in Federal District Courts, Department of Veterans Affairs, state Superior Courts, California Court of Appeals, Workers' Compensation Appeals Board, Social Security Administration Office of Hearings and Appeals, and the Appeals Council of the Social Security Administration (highest judicial level) in Virginia.
Esther has been able to reach people who are concerned about protecting their families from the devastating legal effects of disability and death. Her law practice, The Elder and Disability Law Firm, champions the use of Powers of Attorney, Irrevocable Trusts, Veterans Trusts and other legal methods as proven ways to protect families and people with disabilities and to minimize the expense of assisted living and nursing home care.  
Education
She is an accredited attorney by the Department of Veterans Affairs to represent veterans and their spouses.  Esther is approved  by the Nursing Home Administrators Program, California Board of Behavioral Sciences  and the Board of Registered Nursing as a continuing education provider, and she is frequently invited to teach continuing legal education seminars, continuing medical education seminars and continuing nursing seminars to attorneys, doctors, nurses and social workers.  Esther is also a member of the National Academy of Elder Law Attorneys, California State Bar Association, and the San Bernardino County Bar Association